In 4 Steps, You Can Change A Life!
Host An International Student!
Step 2: LC
Be assigned a Local Coordinator to assist with the full hosting process.
Step 4: Welcome
Welcome your new international student into your heart and home!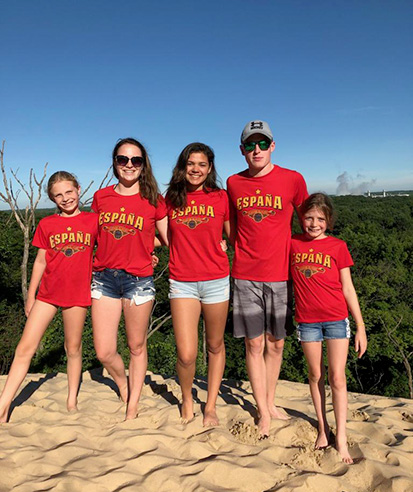 Ready to Impact A Culture? Change A Life?
Host An Exchange Student!
Each year, FLAG brings more than 500 students from over 25 countries into the U.S. on FLAG programs to study in high schools & universities and live with host families. Choosing to become a host parent means you are willing to accept an international exchange student into your home and provide a loving, nurturing family environment. When you host, you will open yourself and your loved ones to a new world of culture and unforgettable experiences!
Apply Online
Hosting FAQs
You've Got Questions. We've Got Answers.
Host families in the FLAGship program are not paid but are entitled to a tax deduction for each month they host. Per Federal Regulatory Guidelines, host families may not be compensated.
Yes, all FLAG students have demonstrated a specific level of proficiency in English. Each FLAG student comes to the U.S. with a desire to immerse themselves in the language and to improve their level of proficiency.
FLAG students come from more than 25 countries and are seen as role models and leaders in their home communities by demonstrating maturity and motivation to study abroad.
Yes! All FLAG students and their natural parents are informed about FLAG's program rules as part of the application process and sign an Agreement to abide by them. All students attend specialized orientation meetings before departing their home country and after arrival in the U.S. Violation of program rules may result in disciplinary actions including the possibility of program termination depending on seriousness. Host parents also receive a specialized orientation prior to arrival of the student, and are provided with a Host Family Handbook, which contains information on all program rules.
FLAG must receive authorization from the school before enrolling the exchange student. FLAG has worked with hundreds of schools and ensures that students are in compliance with school policies. FLAG Local Coordinators work together with the host family to enroll the exchange student and are available to support the school throughout the year.
Yes, however the FLAG exchange student must be enrolled at an accredited high school and cannot be home-schooled with their host siblings. The U.S. Department of State regulations "require all exchange students to be enrolled and participating in a full course of study at an accredited academic institution" as secondary school students. Therefore, FLAG cannot allow an exchange student to be home-schooled.