FLAG is devoted to the development of interpersonal, intercultural and lifelong relationships around the globe. Our programs are designed to positively impact world peace by bringing together people from different countries and cultures, and supporting them in their FLAG journey to the best of our resources.
To combine the experience, reliability and reputation of a nationally recognized and fully accredited educational organization with the "personal touch" and individual care of a small agency. Our goal is to offer each of our program participants the best of both worlds in the field of International Educational Travel.
There are no numbers at FLAG, only names and faces. FLAG is a "small-by-design" organization that promises a personalized approach offering a variety of short-term and full semester/year opportunities for both American and international students.
Students Placed
Since 1989
Countries
Officially Represented
Exciting Exchange
Programs Available
About Us
---
FLAG is a U.S. based nonprofit international exchange organization with almost three decades of history in successfully managing the responsibilities of being a U.S. State Department designated sponsor. Since 1989, FLAG has been dedicated to providing high-quality international exchange experiences that transform the lives of high school students, host families and communities throughout the world. More than 5,000 students and families have been touched by FLAG experience throughout the years.
FLAG is in 100% compliance with all rules and regulations governing student exchange. This commitment to excellence brings pressure on FLAG to significantly increase the number of international exchange students we sponsor each year. FLAG is however committed to limiting that number and maintaining the capacity, to provide excellence in international exchange for the students, host families, schools, and communities we serve. FLAG supports international exchange through 6 exciting programs; FLAGship, FLAG One, STEP (Short Term Exchange Program), Outbound, Smooth Landing and FLAG Abroad.
Currently, FLAG hosts over 500+ students from nations around the world who want to live and learn in the U.S.
Developing life-long friendships and a keen awareness of the ethics and values in the U.S. are the main objective of these international students.
Our History
---
FLAG was founded by Mazi Cunha, a former Brazilian exchange student, along with his American host mother (since retired). As FLAG's Executive Director, Mazi manages the overall operations and resources of the organization with assistance from a team of 7 other organizational leaders. This team's dedication and passion for student exchange is evident in FLAG's ongoing evolution of programs, services, and charitable missions. FLAG's activities are also overseen by a Board of Directors, and carried out with the support of a network of U.S. Field Staff members and International Partners.
Accreditation
---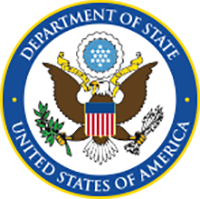 In the early years, FLAG achieved full accreditation status with the two main regulatory agencies in the U.S. exchange student industry. We are designated as an official sponsor of Exchange Visitor Programs by the United States Department of State and have acceptance for a full listing in the Advisory List published by the Council on Standards for International Educational Travel (C.S.I.E.T.).
FLAG has earned and maintains an impeccable reputation and track record with both agencies. In 2002, after serving on a number of CSIET's Evaluation and Accreditation Committees and chairing CSIET's Accreditation Committee for 2 consecutive years, Founder Mazi Cunha was nominated and elected as a member of the CSIET Board of Directors for 2 consecutive 3-year terms.
Our Representation
---
In the U.S., FLAG is represented in a number of states by a network of authorized Local Coordinators, comprised mostly of former FLAG host families. These Local Coordinators are reliable and experienced individuals who are trained to screen, recruit and personally interview U.S. host families. They are also responsible for providing ongoing local assistance to FLAG's inbound students, host families, and high schools during the exchange experience.
Interested in joining our FLAG Family?
Overseas Representation
FLAG is represented internationally by authorized agents who are responsible for promoting the FLAG program overseas, for the recruitment and pre-departure orientation of all program participants, and for providing assistance to the natural parents of the program participants during their exchange experience.
Become An International Partner